Ribera del Duero D.O. 2015 Chartier Créateur d'Harmonies
Red wine bottled by Sélections Chartier Inc., in collaboration with Aurelio Cabestrero and Isaac Fernandez, at Bodegas Arrocal, Spain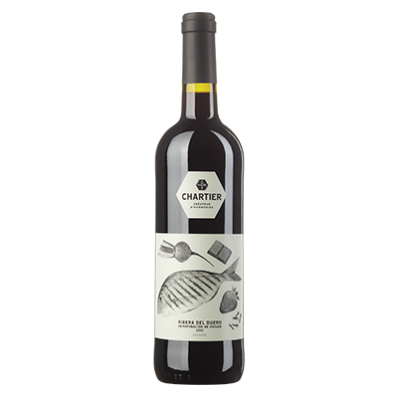 SAQ : 12246622
| | |
| --- | --- |
| Price | 20 $ |
| Varietals | 100% Tempranillo (Tinta del païs) |
| Serving temperature | 18 ºC |
| Conservation | Serve within six years of the vintage |
| Alc. | 14,5 % |
| Carafe | Oxygenate for 30 minutes priori to serving |
Selected, assembled and aged by Sélections Chartier Inc., bottled with Aurelio Cabestrero and Isaac Fernandez, at Bodegas Arrocal, Spain.
Pairings
Pair this tempranillo to your favorite recipes containing one or more of the following ingredients: grilled meats and fish, especially red fish, nigella (black cumin), tarragon, vanilla, dark chocolate, coffee, allspice, smoked chipotle, smoked pimenton, roasted bell peppers, strawberries, cloves, red beets, roasted sesame seeds, ginger and many more.
Note
This Spanish red is the perfect balance between the mineral earthy classicism and the modern fruity approach of Ribera del Duero wines. Born of very old tempranillo vines, it is very colorful, aromatic, mature and deep, with notes of black fruit, mild spices, smoke and roasting. Its mouth is dense, full, textured and quite voluminous and rich, which opens the door to countless pairing possibilities but where grilled meat is king. As with other Chartier wines, the label shows you the aromatic paths that should inspire you!
Origin / Terroir / Vinification
This wine was elaborated in collaboration with Aurelio Cabestrero, renowned trader in Spanish wines for the United States (GrapesofSpain.com), who is also a wine producer in his country, and in association with winegrower Isaac Fernandez, who is the nephew of Mariano Garcia (Vega Sicilia, Mauro). It stems from very old vines, between 50 and 70 years old, planted in a typical Ribera del Duero soil (sand/gravel subsoil with a limestone soil). The harvest is severely selected on sorting tables and then 100% stripped before undergoing a cold pre-maceration, which is followed by fermentation with indigenous yeasts in stainless vats. It is then aged for ten months in oak casks of which 1/3 are new, 1/3 are one year old and 1/3 are 2 years old, all made of 75% French oak and 75% American oak.
Œnologist
Dr Pascal Chatonnet (as is the case for all Chartier Créateur d'harmonies wines)
Recipe Ideas
– COFEE-BASED MARINADE FOR GRILLED MEATS
– FOURSPICE- AND/OR CLOVES-BASED MARINADES FOR GRILLED MEATS
– GRILLED OR STRONGLY PANNED BLUEFIN TUNA
– GRILLED OR STRONGLY PANNED SALMON
– DEEPLY SEARED WHITE AND RED GRILLED MEAT
– RED BEETS SALAD WITH A FOURSPICE- AND/OR CLOVES- AND/OR ROASTED SESAME SEED OIL-BASED VINAIGRETTE
– SESAME SEED OIL ROASTED BELL PEPPERS
– TARRAGON ROASTED CHICKEN
– FOURSPICE ROASTBEEF
– GRILLED CALF RIB
– CHIPOTLE SPICED GRILLED VEGETABLES
– MOLÉ CHICKEN
– DARK CHOCOLATE (80% COCOA AND UP)
Chartier/Modat Recipes
Don't forget the 800+ recipes in the 4 volumes of the Papilles pour tous! recipes collection, where you'll find many recipes on the same aromatic path as this Ribera del Duero. Stay tuned for more recipes created specifically for this wine on this Website.
Autres millésimes