Le Blanc 2013 Pays D'Oc I.G.P. Chartier Créateur d'harmonies
White wine, , bottled at Clos des Augustins, Pic Saint-Loup, France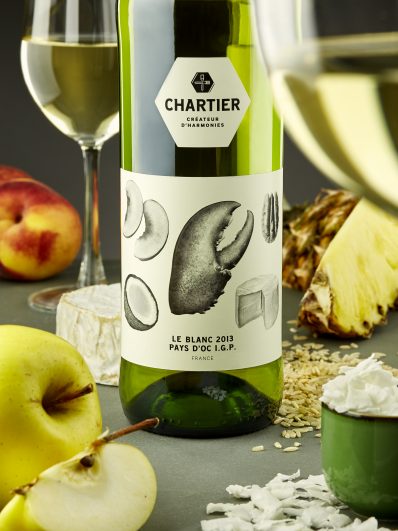 View Video
SAQ : 12068117
| | |
| --- | --- |
| Price | 19 $ |
| Varietals | 40 % Chardonnay |
| | 40 % White Grenache |
| | 10 % Rolle |
| | 10 % Roussanne and Marsanne |
| Serving temperature | 14-15 ºC (more cool than cold) |
| Conservation | Serve within 4 years of its vintage |
| Alc. | 13 % |
| Format | 750 ml |
Selected, assembled and aged by Sélections Chartier Inc., bottled at Clos des Augustins, 111, chemin de la Vieille, 34270 Saint Mathieu de Tréviers, France.
Pairings
Pair this chardonnay-grenache-rolle blend to your favorite recipes containing one or more of the following ingredients: apricot, peach, honey, coconut, camembert and brie type cheeses, brown rice, pecans, maple syrup, pork, salmon, pineapple, yellow apple, butter, caramelized onion, curry, and many more.
Note
The only way to describe this wine is to call it a white for red lovers! It is a typical Languedoc blend, more specifically from the Pic Saint-Loup area, where the Mézy family's Clos des Augustins is located. Assembled from chardonnay, grenache blanc and rolle, it is both round and sharp, full, yet mineral, and it leads us on the aromatic path of peaches, apricots, nuts, honey and coconut. What awaits you, especially if you are wise enough to serve it more cool than cold (14-15 ºC) and oxygenate it for about 5 minutes, is pure refinement and pleasure. It will shine in the company of a pork tenderloin with a fruity salsa as well as a sidekick to a platter of soft ripened cheeses accompanied by roasted pecans.
Origin / Terroir / Vinification
Originates mostly from the AOC Pic Saint-Loup, but some of it originates from bordering areas that are not AOC. Soils: grenache blanc over conglomerates, chardonnay over marly limestone and rolle (vermentino) over clay limestone. The Clos des Augustins domain of the Mézy family is biodynamic. Both the chardonnay and the rolle were cask-aged over fine lees, while the grenache blanc (45+ year old vines) was aged in barrels for 6 months over lees. At the very end of the blending process, we added a barrel of young chardonnay to the lot in order to magnify the desired aromatic path, hence this "white wine for red wine lovers", as I like to call it
Recipe Ideas
-APRICOT-STUFFED PORK ROAST
-APRICOT/PEACHE SALSA PORK TENDERLOINS
-APRICOT/MAPLE/NUT PORK BALLOTINE
-PINEAPPLE/COCONUT PORK/CHICKEN FRICASSEE
-LOBSTER IN A COCONUT BOUILLON
-SALMON WITH A PINEAPPLE SALSA
-INDIAN CURRY
-THAI COCONUT-BASED SOUP
-EGGS BENEDICT WITH SALMON
-CHESSES AND NUTS PLATTER
Chartier/Modat Recipes
Don't forget the 800+ recipes in the 4 volumes of the Papilles pour tous! recipes collection, where you'll find many recipes on the same aromatic path as this white wine from the Midi. Stay tuned for more recipes created specifically for this wine on this Website in the coming weeks.
Video