Fronsac A.O.C. 2010 Chartier Créateur d'harmonies
red wine, bottled at the Château by Dionysal, Néac, France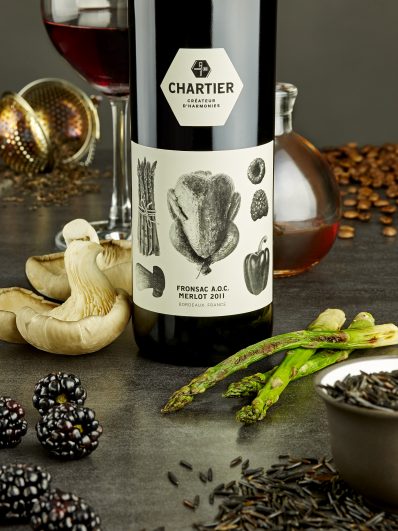 View Video
SAQ : 12068070
| | |
| --- | --- |
| Price | 20 $ |
| Varietals | 80 % Merlot |
| | 20 % Cabernet Franc and Cabernet-Sauvignon |
| Serving temperature | 18-19 ºC |
| Conservation | Serve within seven years of the vintage |
| Alc. | 13,5 % |
| Format | 750 ml |
| Carafe | Oxygenate in a carafe 45 minutes before serving |
Selected, assembled and aged by Sélections Chartier Inc., bottled at the Château by Dionysal, 33500 Bordeaux, France.
Pairings
Pair this merlot to your favorite recipes containing one or more of the following ingredients: mushrooms, roasted peppers, black tea, grilled beef, raspberries, wild rice, roasted duck, chicken and turkey, coffee, nori algae, roasted sesame oil, roasted asparagus, mint, blackberries, and many more.
Note
Here is a right bank Bordeaux, elaborated with the help of oenologist Pascal Chatonnet. It is dominated by the seductive merlot whose luscious, fruity nose is rich, complex, detailed and ripe. It is reminiscent of plums, roasting, lead, and roasted red pepper. The attack overflows with black fruit, full and almost dense, solid and lengthy, with ripe tannins, and grain, followed by a long blackberry, plum, mushroom and roasted red pepper finish. Oxygenate for 45 minutes and serve at 18-19 ºC. It will evolve gracefully until 2017. It will astound you when accompanying simple dishes such as red bell peppers stuffed with mushroom rice or a roast chicken served with deep roasted asparagus.
Origin / Terroir / Vinification
This wine was borne of the great Bordeaux vintage of 2010. I selected only the best Fronsac vintages, most of them from clay limestone terroirs that matched the aromatic paths I was looking for, namely that of the foods shown on the label. Pascal Chatonnet and myself blended and bottled them at his own Dionysal winery. They were aged for only 12 months in 30% new barrels so as to avoid distracting the wine from its aromatic profile.
Recipe Ideas
-MUSHROOM/ASPARAGUS STUFFED BELL PEPPERS
-ROAST CHICKEN AND MUSHROOMS
-ROASTED SESAME CHICKEN FRICASSEE
-ROASTED TURKEY WITH WILD RICE/MUSHROOMS STUFFING
-GRILLED DUCK AND ROASTED GREEN ASPARAGUS
-GRILLED BEEF WITH A COFFEE SAUCE
-ROASTBEEF AND MUSHROOM WILD RICE
-REASPBERRIES/MINT CHICKEN SALAD
-GRILLED ASPARAGUS SALAD WITH COFFEE VINAIGRETTE
-MUSHROOM TOURTIERE
-MUSHROOM SAUTE STUFFED CHEESE
Chartier/Modat Recipes
Don't forget the 800+ recipes in the 4 volumes of the Papilles pour tous! recipes collection, where you'll find many recipes on the same aromatic path as this Fronsac. Stay tuned for more recipes created specifically for this wine on this Website in the coming weeks.
Video