Côtes-du-Rhône A.O.C. 2012 Chartier Créateur d'harmonies
Red wine, bottled at Domaine Jaume, Vinsobres, France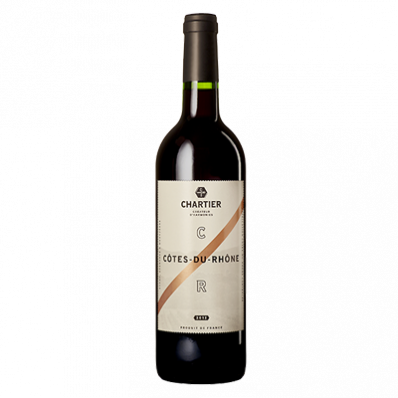 View Video
SAQ : 12068096
| | |
| --- | --- |
| Price | 20 $ |
| Varietals | 30 % Syrah |
| | 55 % Grenache |
| | 15 % Mourvèdre |
| Serving temperature | 18 ºC |
| Conservation | Serve within six years of the vintage |
| Alc. | 13,5 % |
| Format | 750 ml |
| Carafe | Oxygenate 30 minutes before serving |
Selected, assembled and aged by Sélections Chartier Inc., bottled at Domaine Jaume, 24, rue Reynarde, 26110 Vinsobres, France.
Pairings
Pair this grenache-syrah-mourvèdre assembly to your favorite recipes containing one or more of the following ingredients: pepper, black olives, lamb, smoked meat, thyme, star anise, licorice, carrots, caraway, fennel, parsnip, parsley root, tarragon, Jerusalem artichoke, mint, oregano, roasted root vegetables, and many more.
Note
Because of the altitude of the Vinsobres vineyards, at the northern limit of the southern valley, this red wine is fresher, with elegant tannins and a complex aromatic profile (olives, pepper, floral), which is reminiscent of the syrah from Saint-Joseph and Crozes-Hermitage, to the north, but devoid of the heavy jam notes typical of the southernmost areas. The result is a wine on the same aromatic profile as your typical syrah with subtle notes of black pepper and black olives, as well as a floral touch that is both expansive and fresh, expressive and refined, with extra-fine tannins, a moderate body amplitude and a long finish of cherries, star anise, cocoa, black olives and pepper. Hardly any wine could be more palatable and authentic. The best part is, the blend of 55% grenache, 30% syrah and 15% mourvèdre created in Vinsobres at the Domaine Jaume will become more aromatically complex and creamier in the next few months, and will keep evolving over the next three to five years. Serve between 16 and 18 °C, according to the season. It will express its full character with a black olive and peppery pasta dish as well as with well-thymed leg of lamb.
Origin / Terroir / Vinification
Originating mostly from the vineyards of the Vinsobres AOC, a small fraction of the lots originate from non-AOC bordering are. Domaine Jaume, from Vinsobres, operates in an ultra-reasoned manner. I made a conscious choice to not barrel-age this one at all, wishing to let the natural freshness of the environment (Vinsobres), as well as that of the syrah, grenache and mourvèdre, the "northernmost of the south". I did not want to obfuscate the specific character of the clay-limestone hills, cooler climate and varietals of this assemblage.
Recipe Ideas
-BLACK OLIVE PUREE BRUSCHETTA
-BLACK OLIVES/ONIONS/ANCHOVIES PISSALADIÈRE
-BLACK OLIVES-STUFFED LEG OF LAMB
-SMOKED MEAT
-THYMEDRACK OF LAMB
-STAR ANISE PERFUMED ROASTED ROOT VEGETABLES
-LAMB MOUSSAKA
-TARRAGON POT-AU-FEU
-TARRAGON CHICKEN
-CARAWAY FLAVORED TURNIP SOUP
-BRAISED FENNEL WITH ANISEED
Chartier/Modat Recipes
Don't forget the 800+ recipes in the 4 volumes of the Papilles pour tous! recipes collection, where you'll find many recipes on the same aromatic path as this Rhône valley wine. Stay tuned for more recipes created specifically for this wine on this Website in the coming weeks.
Video