Sesame seed and allspice roasted duck breast with confit turnips and cloves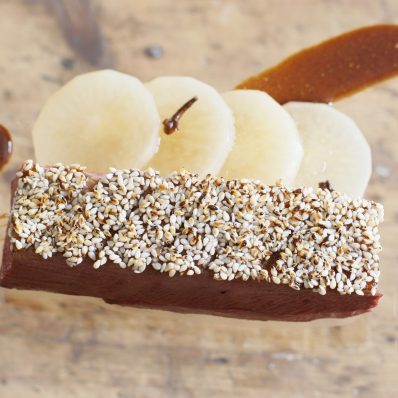 Preparation : 30 min
Cooking : 30 min
Servings : 2
Ingredients
For Confit turnips with cloves
4 white turnips (rabioles)
80 ml (1/3 cup) rice vinegar
50 g (¼ cup) liquid honey
6 cloves
For the duck breast
2 duck breast filets (about 400 g or 13 oz each)
80 ml (1/3 cup) dark rum
10 g (½ tablespoon) honey
3 g (1 tablespoon) ground allspice
50 g (1/3 cup) white sesame seeds
Preparation
Step 1
Prepare the confit turnips. Peel the turnips and thinly (0.5 cm, 1/4 in.) slice them crosswise and blanch then in a pot of boiling salted water for 2 minutes. In the meantime, mix the rice vinegar, honey and cloves in a saucepan. Bring to a boil. Transfer the blanched turnips to this pan with the syrup. Bring back to a boil and simmer gently for 10 minutes, or until the syrup has reduced by half. Cover and set aside.
Step 2
Prepare the duck breast filets. Remove the meat from its vacuum-sealed wrapping for at least an hour before cooking it. Score the fatty skin side crosswise. In an oven-safe pan, start by cooking the meat skin-side over low heat and remove the excess fat as it melts away in order to obtain a crunchy skin. Once the skin has been adequately skimmed of its fat, flip the meat and cook it meat-side down for about 4 minutes in order to brown it. Finish cooking by placing the meat skin side down in the pan and place the pan in a 350 °F preheated oven for about 8 minutes, or according to the size of the duck breast.
Step 3
In the meantime, in a small saucepan, combine the rum and honey and boil until you get a thick syrup (think maple syrup). Remove from the heat and mix in the allspice. Reserve.
Step 4
Remove the duck breasts from the oven and reserve them on a hot plate for 10 to 15 minutes. In the still warm over, using a cookie sheet, place the sesame seeds until they are golden brown.
Finishing
Pour the caramel on a plate and place the duck fatty side down on top of it. Sprinkle generously with the sesame seeds. If the meat needs to be reheated, place it on a cookie sheet in an oven preheated to 350 °F for 6 minutes.
Aromatic Tricks
This multicultural dish that marries the classic French duck breast with turnips to the Oriental aromas of allspice came to me while researching the aromatic paths presented by cinnamon, cloves and oak barrels. What my accomplice Stéphane Modat, chef at the Fairmont Château Frontenac restaurants and I have accomplished is a high-flying duck that offer the crunch and subtle spiciness of sesame, augmented by the penetrating caramel of the rum and honey-based sauce and its cloves and cinnamon accents. The duck is escorted by surprising, translucid slices of confit turnips that have been cooked in rice vinegar, honey and cloves pair stunningly well with Spanish tempranillo-based wines partially aged in American oak – like the 2013 Ribera des Duero Chartier – selected for this dish! The power of attraction between the organic compounds of the food in this recipe and this type of red wine expresses itself with great precision.