The Art and Science of Food and Wine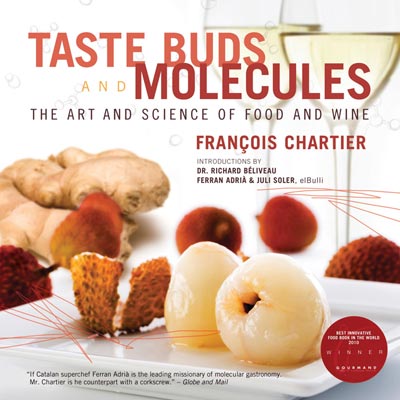 "If Catalan superchef Ferran Adria is the leading missionary of molecular gastronomy, Mr. Chartier is his counterpart with a corkscrew."—Globe and Mail
Foreword by Ferran Adria and Juli Soler of elBulli, who worked closely with Chartier in planning the 2008-2009 menus at their renowned restaurant (Five times World Best Restaurant )
This award-winning book, available in English in Canada and in the U.S., as in Russia and Hungary, presents a cutting-edge approach to food and wine pairing. Sommelier Francois Chartier "Créateur d'harmonies" has spent the better part of two decades collaborating with top scientists and chefs to map out the aromatic molecules that give foods and wines their flavor. Armed with the results of his extensive research, Chartier has been able to identify why certain foods and wines work well together at a molecular level. In this book, he has gathered his findings into a simple set of principles that explain how to create ideal harmonies in food and wine pairings.
This new approach to the art and science of food and wine pairing will be an invaluable resource for sommeliers, chefs, and wine enthusiasts, as well as a fascinating read for anyone who is interested in the principles of modernist or "molecular" cuisine.
The Canadian edition of Taste Buds and Molecules was a 2011 IACP Award nominee, and the original French-language edition, Papilles et Molecules, was named the Best Cookbook in the World in the category of Innovation at the 2010 Paris World Cookbook Awards, and also won the 2010 Gourmand Award for Canada for Best Design.
More on Taste buds and Molecules
What's the secret relationship between the strawberry and the pineapple? Mint and Sauvignon Blanc? Thyme and lamb? Saffron and yellow apples? Rosemary and Riesling? By identifying the aromatic compounds responsible for certain fragrances, Chartier has opened the door to an exciting approach to creating new recipes and perfect food and wine pairings.
The pages of this richly illustrated practical guide are brimming with photos, sketches, recipes from great chefs, and tips for creating everything from simple daily meals to tantalizing holiday feasts.
Wine amateurs and connoisseurs, budding cooks and professional chefs, and anyone who simply loves the pleasures of eating and drinking will be captivated and charmed by this journey into the hidden world of flavors.