Solérone d'automne – Série Gastronomie Glutenberg & Chartier Créateur d'harmonies
Limited-production & 100% gluten-free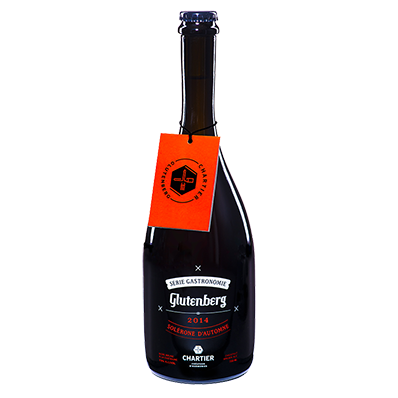 | | |
| --- | --- |
| Style | Chestnut Brown Ale |
| Alc. | 7,9 % |
| Color | Brown |
| IBU | 22 |
| Service temperature | 10 - 12 °C |
| Format | 750 ml |
| Ingredients | Water |
| | Millet |
| | Buckwheat |
| | Corn |
| | Chestnut |
| | Dried figs |
| | Cocoa nibs |
| | Hops |
| | Yeast |
Just like the two first beers in our Série Gastronomie, the Solérone d'automne was concocted with exquisite culinary creations in mind. It will be a great companion to recipes using ingredients of the same aromatic track as this autumn beer. Choose braised or slow-cooked meat dishes, such as a beef bourguignon (blend some chocolate into the sauce as a finishing touch!), beef in beer, or pulled pork. You'll be in for quite some aromatic harmony! The Solérone also mingles wonderfully with dried meats (think prosciutto canapé or Serrano-wrapped dried figs, blue-cheese stuffed baked dates, or even bacon-wrapped prunes). And don't forget your strong cheeses – blue or washed rind – paired with dried figs, dates (warm and cumin-flavoured), or nuts (pan-seared before serving). Finally, because chocolate is one of its many ingredients, dare serving it as a companion to dark chocolate-flavoured desserts (in raw form or cooked with nuts), figs, or smoked black tea. Cheers!
Nose
This third beer in the Série Gastronomie has a very rich and detailed aromatic nose, with autumnal notes of dried fig, caramelized apple compote and roasted chestnut. It's a great gastronomic beer whose aromatic profile calls for pairings with dishes full of rich fall aromas and flavours.
Body
The first sip is full, but not too dense, and magically ethereal. It unfolds into cooked apple, chestnut cream and caramelized melted butter notes with aniseed hues before a long, grand cocoa finish complemented by a touch of smooth and noble bitterness. A beer of rare drinkability considering its richness.