CHARTIER'S NEW 2015 ROSÉ : An ode to the professional maturity of vintner and wine merchant François Chartier.
April 5, 2016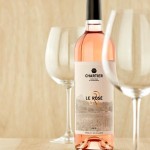 François Chartier "Créateur d'harmonies"—who's spent the last 25 years criss-crossing the world to visit vineyards and taste over 60,000 wines—innovates yet again with Le Rosé Chartier 2015. Consecrated Best sommelier in the world in French wine and spirit (Grand Prix Sopexa, 1994 Paris), Chartier's wines have been available at SAQ since 2013 and he has acquired a lot of maturity as a vintner and wine merchant, allowing him to work even closer to the vine and its terroir. To further underscore this newfound maturity in vine and cellar work, Chartier also decided to revisit the visual identity of his "New Chartier wines". The first bottles of this new wine are decorated with newly redesigned labels that reflect Chartier's approach to the terroir. The first of those—Le Rosé Chartier 2015 Pays d'Oc IGP ($18.95; SAQ code 12253099)—will be in SAQ outlets starting on April 4.
Le Rosé Chartier was born of the gorgeous 2015 Languedoc crop and elaborated at Clos des Augustins, a biodynamic culture domain located in the Pic Saint-Loup appellation. This new cuvée is robuster and more complex than its predecessors thanks to a selection of very old grenache noir vines rounded out by a higher ratio of syrah that spices things up and invigorates this already very popular rosé wine. The 2015 cuvée is more textured and generous, yet just as aromatic and enchanting.
This "new" rosé will undoubtedly be 2016's spring and summer favourite!
Le Rosé Chartier 2015 Pays d'Oc IGP